In Lightroom, the strip of photos along the bottom of the screen in each module is called the filmstrip.
Here are a few tips for working with it:
The filmstrip shows whatever photos you have selected in the Library module — a folder, a collection, or a catalog selection.
You can navigate through your photos in the filmstrip with the left and right arrow keys on your keyboard.
You can hide or unhide the filmstrip by clicking on the triangle at the bottom center of your Lightroom window:
The shortcut for  hiding and unhiding it is shift-F6.
You can make the filmstrip larger or smaller by hovering over the top black edge of it until you get the double arrow, and then clicking and dragging up or down:
Note that if you make it too small, your thumbnail badges (symbols for GPS data, keywords, crop, develop settings, virtual copies, stacks, collections, etc.) won't show: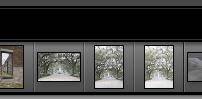 If you hover over a thumbnail, Lightroom displays its file name:
If you have given your virtual copy a copy name, it will display after the file name (Black and White in this case.) See my post on naming virtual copies for more information on this topic.
Clicking on the triangle to the right of file name / copy name is a convenient way to jump to folders or collections that you have used recently or that you designate as Favorites. Here's a post with more information on using this Recent Sources list.
The right side of the filmstrip has a small version of Lightroom's filter bar, allowing you to filter according to number of stars, flags, and color labels. Click on the word Filter to collapse or expand this. Watch my video on how to find your photos in Lightroom for more information on this filter bar, as well as the main Library Filter bar.
 Finally, here are explanations of the symbols at the top left of the filmstrip :
Click here to read more about working with two monitors, and here for an idea for using the second monitor window even when you only have one monitor!