Isn't it finally time to master Lightroom? With my video training you can and will.
Up-to-date through Lightroom Classic version 9.3
Lightroom 5, 6 and Classic: The Fundamentals & Beyond
A Workshop on Video with Laura Shoe
Version 8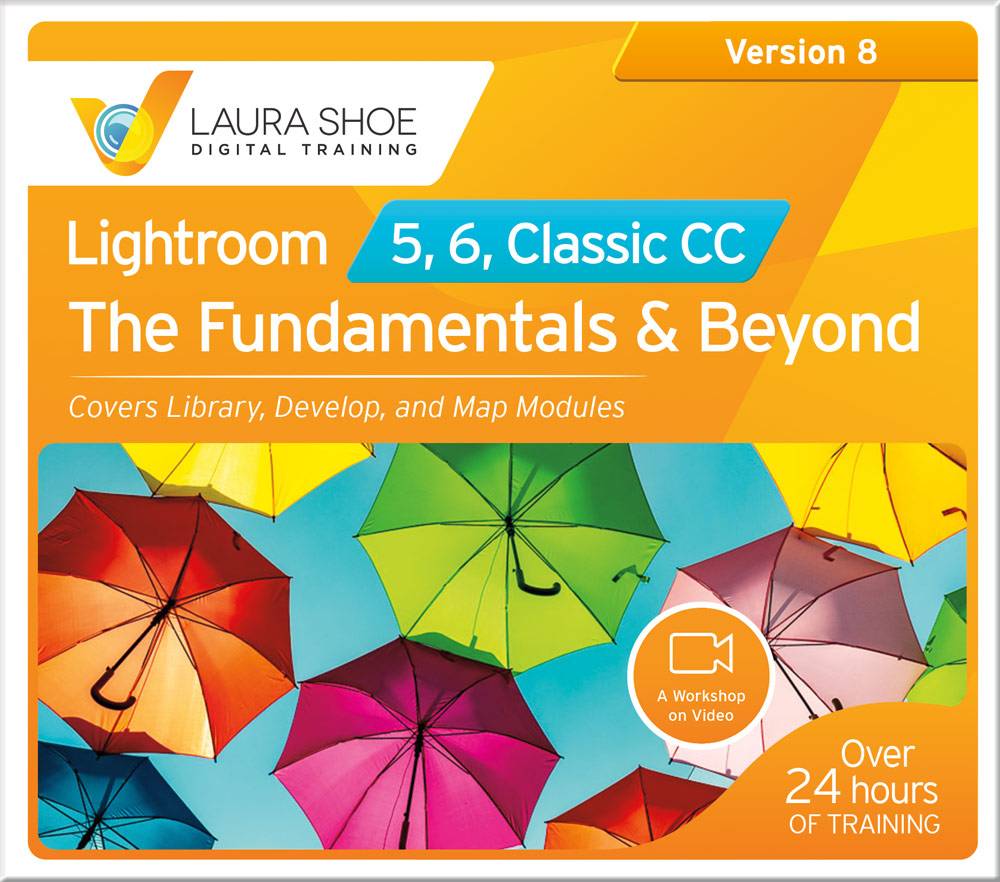 Master the fundamentals of Lightroom and WAY beyond!
In this series for both beginners and experienced users, learn how to import, organize and manage, edit and share your photos.
Start you best-in-class Lightroom training with this series.

For Lightroom Classic (AKA Classic CC; updated through 9.3) and for Lightroom 5, 6, and CC 2015.

25+ hours of training on 112 videos – keep them forever (no subscription)!

Get off to a great start in Lightroom or fill in gaps in your knowledge

Clean up your Lightroom mess – get and stay organized

Edit like a pro: produce beautiful results quickly

Try it RISK FREE with my 60-day 100% satisfaction guarantee
If this popup window doesn't open, scroll down to the Purchase Options section below.
"Laura's video training has to be the best and easiest way to master Lightroom. It's superb…perfect for both beginners and intermediate level Lightroom users and will impress advanced users as well."
Photosource International

Laura Shoe has taught for Adobe, creativeLIVE, Rocky Mountain School of Photography and other organizations, and has been making video tutorials for over 10 years. From her years of teaching experience she anticipates where students get stuck, and with a clear and concise presentation style, guides you through the complexities with ease.

This series covers the most important parts of Lightroom, that everyone should learn well – the Library and Develop modules – as well as Map. Click on the tabs below to read more about what you'll learn:
Get and Stay Organized
Understand how Lightroom works with a catalog and how to avoid painful mistakes users often make

Make decisions on where to store your photos and how to organize them, set up Lightroom to meet your needs

Protect your photo library: understand what needs to be backed up and how to do it

Import from memory cards, hard drives, iPhoto, Photos, Elements; import as you shoot with your camera tethered to Lightroom

Clean up your Lightroom mess: Move and reorganize your photo library; resolve and avoid missing-file issues; merge catalogs, eliminate duplicate photos

Add keywords, face tags, stars, labels, names, other "metadata" to find any photo almost instantly

Use the Map module to save time and easily find photos based on location without having to add location keywords
Fix and Enhance Your Photos
Watch me develop a photo start-to-finish, then delve into the tools to transform your images

Learn and focus on the basics, or master and leverage every tool in the Develop module

Take care of problem areas in your photos and bring attention to your main subject

Eliminate distractions by removing spots and objects

Retouch portraits to smooth skin, remove blemishes, reduce appearance of wrinkles and under-eye shadows

Fix architectural lines and lens issues

Convert all or part of your photo to black and white, add color toning, grain, and other creative effects

Get more done faster with presets and by working on many photos at once

Move from Lightroom to Photoshop (or Elements) and back

NEW

: Two hours of additional photo editing practice with even more tips!
Share Your Photos
Export copies of your photos to send out for printing or to share electronically

Email photos from within Lightroom

Upload to Facebook, Flickr and other services

Use Publish Services to manage your exports so that you'll know if you have done more editing since export and need to export/upload again.

Watermark your photos with a logo or your copyright
And MUCH MORE!
Beginners: I don't assume you have any prior experience and I give you guidance on which videos are most important to watch so that you don't feel overwhelmed. Experienced users: in addition to many videos intended particularly for you (The Pros and Cons of DNG, Smart Previews for Offline Editing, Shooting Tethered, The Tone Curve, Noise Reduction and Sharpening, etc., etc.), you'll find that almost all videos have content intended for you as well – use them to fill gaps in your knowledge.
Table of Contents
Green-coded videos: core lessons that everyone should watch, and beginners should start with.
Introduction (40 min)
Series Introduction

Introduction to Lightroom

How Lightroom Works
Upgrading (32 min)
Upgrading to Lightroom Classic CC
Updating Lightroom Classic CC
Upgrading to Lightroom 6
Devise Your Organization and Backup Strategy (37 min)
Organizing and Backing Up Your Photo Library

Setting Up and Managing Catalog Backups; Catalog Files
Importing into Lightroom (1 hour, 35 min)
Importing from Your Hard Drive

Importing from Memory Cards

Importing from Elements into 6, CC 2015, Classic
Importing from Elements into Lightroom 5
Importing from iPhoto
Import from Mac Photos
Shooting While Tethered to Lightroom
Auto Import from a Watched Folder
Setting Up Lightroom and Getting Started in Library (1 hour,