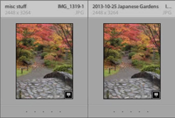 In this video, I show you how I use Jim Keier's great
Lightroom Duplicate Finder plugin
to find and eliminate duplicate photos. I show you my workflow, give you tips and tricks along the way, and I show you the Lightroom skills you need to get the most from the tool.
For best quality, hit Play, then click on the Youtube sprocket wheel
in the bottom right and choose 720/HD.

Table of Contents:
0:00 Introduction
1:07 How to First Back Up Your Catalog
2:06 Running Duplicate Finder
3:05 The Duplicates Smart Collections
5:30 Deleting Duplicates Directly from Folders
6:22 Flagging Duplicates for Deletion
9:48 Filtering to See Just Your Flagged Photos, Deleting
Jim Keier's manual with installation instructions, and full plugin instructions