Enhanced Details was made available today in the February releases of Lightroom Classic CC (v. 8.2) and Lightroom CC Desktop (v. 2.2). This new process can potentially improve the quality of very fine detail and reduce artifacts and moire in raw files. It re-renders your raw file using a more sophisticated demosaicing algorithm that is derived from artificial intelligence machine learning techniques. (Demosaicing is explained later in this article.) While it can potentially be useful to everyone, there is more potential improvement with images captured with Fuji X-Trans sensors – Lightroom's rendering of Nikon, Canon and other manufacturers' raw files was already very good; there was more room for improvement with Fuji images.
This content is for Lightroom Classic (aka Classic CC) and for the cloud-based Lightroom (aka Lightroom CC).
UPDATE FEB. 17, 2019: For information on bugs some users are encountering with Enhanced Details, read the Update section after the video tutorial below.
Shard Mangalik of Adobe in a very illuminating article on Enhanced Details and demosaicing
 reports that it "can result in up to up to 30% higher resolution when capturing Siemens Star resolution charts, both for Bayer and X-Trans-based sensors." The italics are mine. By resolution he means visual clarity, not number of pixels!
That said, you will not experience this level of (or often any) improvement in most of your images. I had to look through many, many images to find a few that show significant improvements – and in most cases I have to zoom way in to see the differences.
In  the old Canon image below, zoomed to 4:1, blue/yellow edges in the unenhanced version are very choppy and there are artifacts surrounding the edges. These are notably reduced in the enhanced version. As I discuss further down, blue against yellow (or orange or red) is a challenging situation for demosaicing algorithms that Enhanced Details handles nicely.
All else equal, it is easier to see improvements in small files such as this 8 MP one – so you may be able to now get more out of your old digital images, as well as out of small crops from large files.
Canon 8 MP Image, zoomed to 4:1
(These differences may be too subtle to see on high resolution monitors – try reducing your monitor resolution or try your own examples)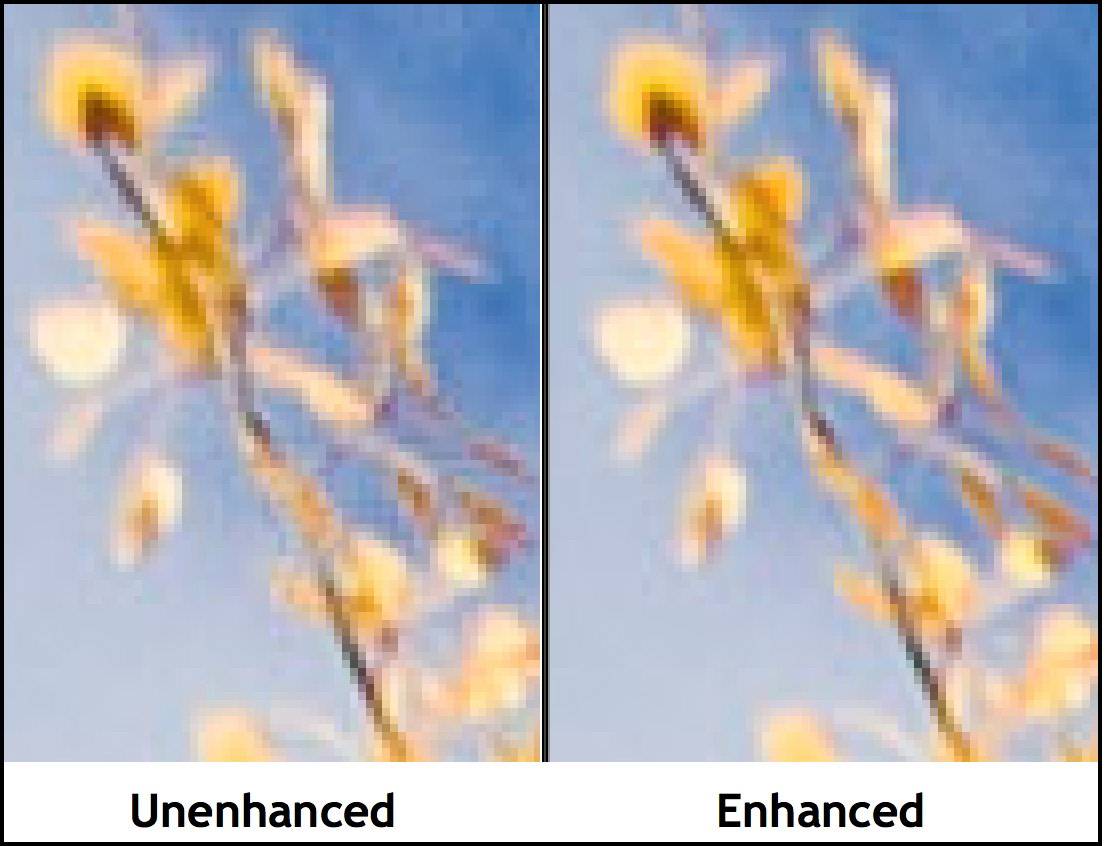 Fuji owners have seen issues with how Lightroom's regular algorithm renders images from X-Trans sensors. including more false colors. The Enhanced Details algorithm does a significantly better job with these under certain circumstances.
Fuji X-Trans 24 MP image, zoomed to 4:1
Enhanced Details Video Tutorial
Watch the video below for complete details (or read on below the video). I use Lightroom Classic CC, in the video but most of it is applicable to Lightroom CC as well. (Lightroom CC doesn't have Compare view, so you can't display both the unenhanced and enhanced versions side-by-side and zoomed in – you'll have to view one version zoomed in in Detail view (D), and then advance to the other, which will also be zoomed in. Be aware that as you move to the second one, there is momentary pixelation of the image while it's loading – don't mistake this for actual image deterioration.
For best quality, after hitting Play click on the sprocket wheel in the bottom right and choose 720/HD.
Issues Reported After Release
Adobe is working on the following reported issues, which affect a subset of Lightroom users. Click through on the links for updates.
In addition, some Windows 10 users have found that the Windows Auto Update process does not update them to the required v. 1809 (see below) and that they therefore get the Enhanced Details message that they are not on 1809. Run a manual update if needed.
If you experience another issue, look for a report of the issue here (or report it yourself)
.
System Requirements for Enhanced Details
This process takes advantage of recent operating system machine-learning platform developments, so it is only available for:
Mac OS 10.13 and later (High Sierra, Mojave, any later versions)
Windows 10 October 2018 release (1809) and later. (That it is not supported on Windows 7 is a technical constraint, not a policy decision by Adobe. Enhanced Details relies on the machine learning platform WinML, which was just released in Windows 10 1809.)
It is very processor-intensive. It heavily uses the available GPU and can use an external eGPU if available. Depending on your system and raw file size, processing one file could take from 15 seconds to well over a minute.
How to Run Enhance Details