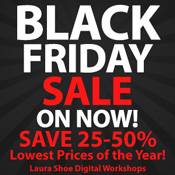 Right now enjoy the guaranteed lowest prices of the year on all my Lightroom video training! For less than the cost of filling your gas tank, you can finally understand and truly master Lightroom, so that you can enjoy and get the most out of your photography!
Through Monday, December 1, save 25%- 50% off all of my Lightroom 3, 4, and 5 Workshops on Video!
This includes my Lightroom 5 The Fundamentals & Beyond, Producing Great Output, and Master 5's New Features (25%-40% off), as well as my Lightroom 3 and Lightroom 4 Workshops on Video (40%-50% off.) For beginners and experienced users, 100% satisfaction guarantee!
Lightroom 5: The Fundamentals & Beyond
61 videos, 12½ Hours of Training
Master the Library, Develop, and Map modules
Import, organize, share your photos
Get brilliant results developing your photos
And MUCH more
Start your best-in-class Lightroom training here
Lightroom 5: Producing Great Output
57 videos, 12+ hours of training
Master Lightroom's output modules
Print, Book, Slideshow, and Web
Conquer critical output concepts
Create beautiful professional output

What My Customers Are Saying
"Laura, I wanted to write to let you know that I wish you could hear how many times I said "Wow" as I was watching your Fundamentals & Beyond videos! Your instructions were so clear and it has been really a joy to watch your videos… Your presentation and explanation are just outstanding; you are an amazing teacher, and you make Lightroom shine.

— Susan C.
"I'm often disappointed with instructional material I purchase, but your course really works. It moves at a comfortable, easy to follow pace… You've presented the material in the way my mind learns new things… You present the material in exactly in the order I need to learn it as I began using Lightroom… Thanks so much. I wish everyone using Lightroom knew about your tutorial."

— Jimmy J.