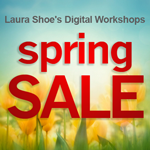 Through Monday May 2, save 15% on my Lightroom CC/6 and 5: The Fundamentals & Beyond training video series!
"Has to be the best and easiest way to master Lightroom…
superb…perfect for both beginners and intermediate level 
Lightroom users and will impress advanced users as well…
The next best thing to having a great expert at your side
…a great value." Photo Source International
Whether you are brand new to Lightroom and want to get off to a great start and avoid the mistakes users often make, or you're an intermediate user looking to fill in gaps in your knowledge, this video series for Lightroom 5, 6 and CC is for you. Learn how to organize and manage, edit, and share your photos using Lightroom's Library, Develop and Map modules.
You get:
15 1/2 hours of training on 76 videos
Guidance for beginners on which videos to watch first
71 practice photos for the lessons on photo editing, panoramas, and HDR merges
Membership in my private Lightroom Help Facebook group
A list of my favorite Lightroom shortcuts
An extensive index so you can easily get back to any sub-topic in any video
A 100% satisfaction guarantee – if you're not satisfied, I'll refund your full purchase price, no questions asked!
Laura Shoe's Lightroom course has allowed me to finally understand what Lightroom is and what I can do with it. I have paid hundreds of dollars for Lightroom lessons in person and on the internet, but I screwed up constantly. But by following all the easy steps in Laura Shoe's course I see myself now as a Lightroom pro! She is clear, calm, easy to understand, exact, precise and friendly. What more do you want?! Hurry, she is the best Lightroom coach you'll ever need!
– Marijke Rawie (Documentary Consultant, Amsterdam Netherlands)
Without Laura Shoe, I would have given up on photography completely. I came to it late – in my 60s – and after frustrating experiences with Photoshop, I switched to Lightroom. I found that other teaching resources available didn't work very well for me… Laura's videos have helped me so much – the content and presentation are beyond reproach. I still go back to them often…. Laura – thank you so much!
– John Woodman (Castletown, Isle of Man)
I have to tell you that this [Fundamentals & Beyond] video series exceeds all my expectations. I thought I knew a fair bit about Lightroom and wondered if I really needed to get a video on the subject. My word, how wrong could I be! The videos and presentation of the subject are superb and I will unhesitatingly recommend them to anyone. Thank you for a great DVD.
– Melvin Kaye (United Kingdom)